Are you new to Blip? Learn how to create your first campaign.
How to Create a Campaign:
Creating a campaign is the first step towards building awareness and recognition for your business. Follow the step-by-step directions below to get your campaign ready to launch.
1. Click the "+ New Campaign" button.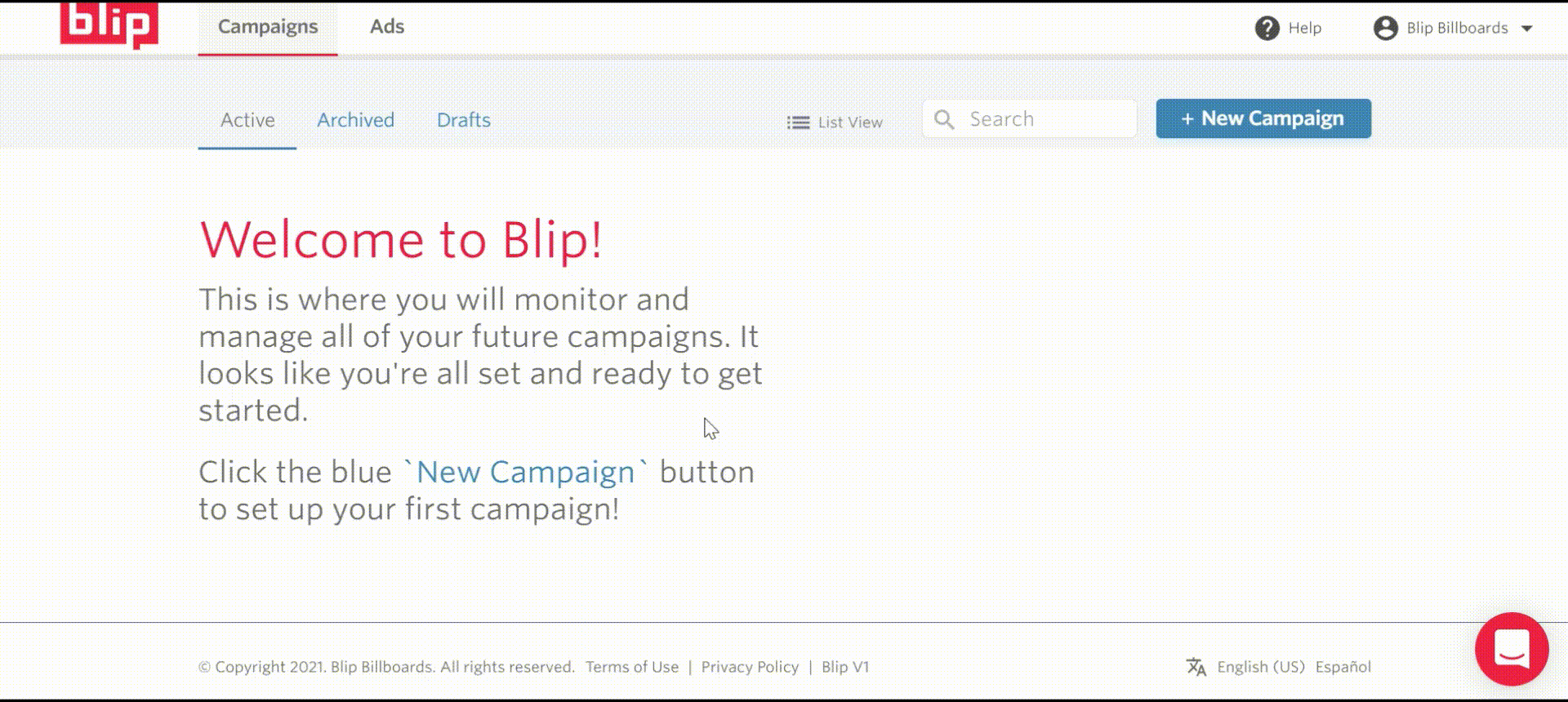 2. Select your billboard locations.
Zoom in and out using your mouse or by clicking the "+" and "-" buttons on the map.
To view a billboard location, click a red dot on the map. Information about the sign will appear in the list on the left-hand side of the screen.
To select a sign click the "add sign" button.
Once selected, the red dot will appear green on the map. Click next when finished.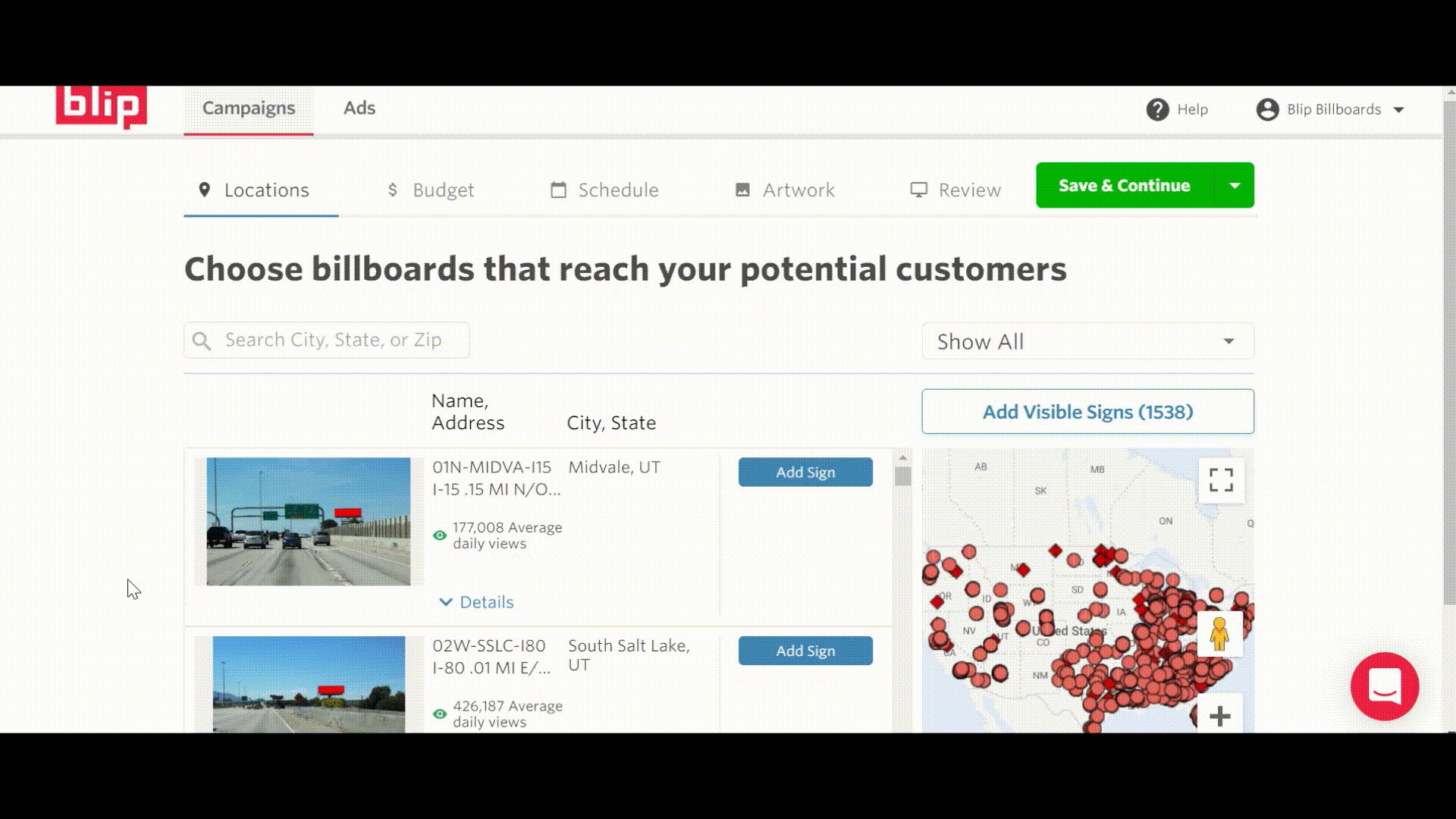 3. Enter your daily budget and the dates that you would like your campaign to run.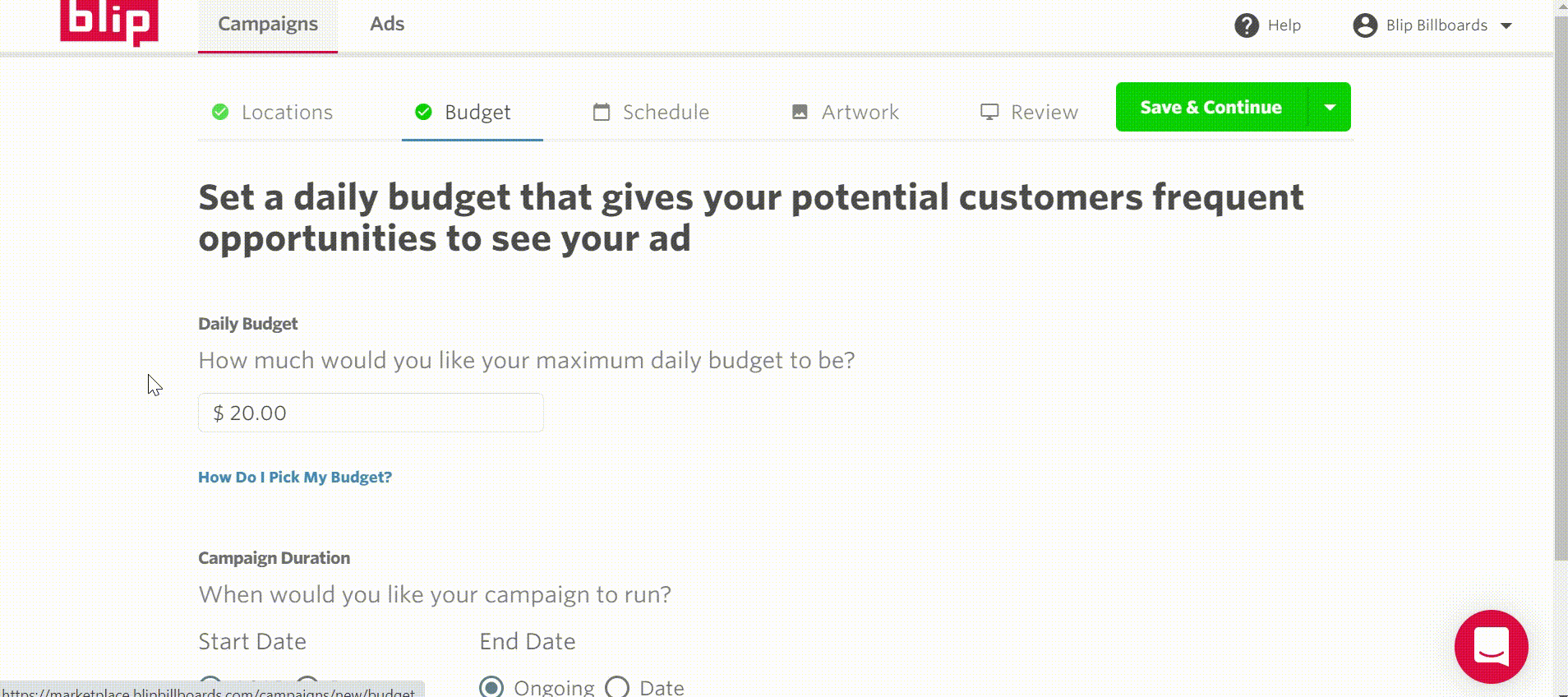 If you would like your ad to run continuously, select "Ongoing" instead of choosing an end date.
4. Create an ad schedule. The colors represent how much you are willing to spend per display during that time frame. These colors correspond with the "Max per Blip" set to the right of the scheduler. Each time you click on the boxes the shade of green will change, representing a change in the distribution of your budget.

Choose from one of our pre-made templates on the left or create your own schedule!
Click on each square or drag your mouse over multiple squares to select the times and days you would like your ad to run.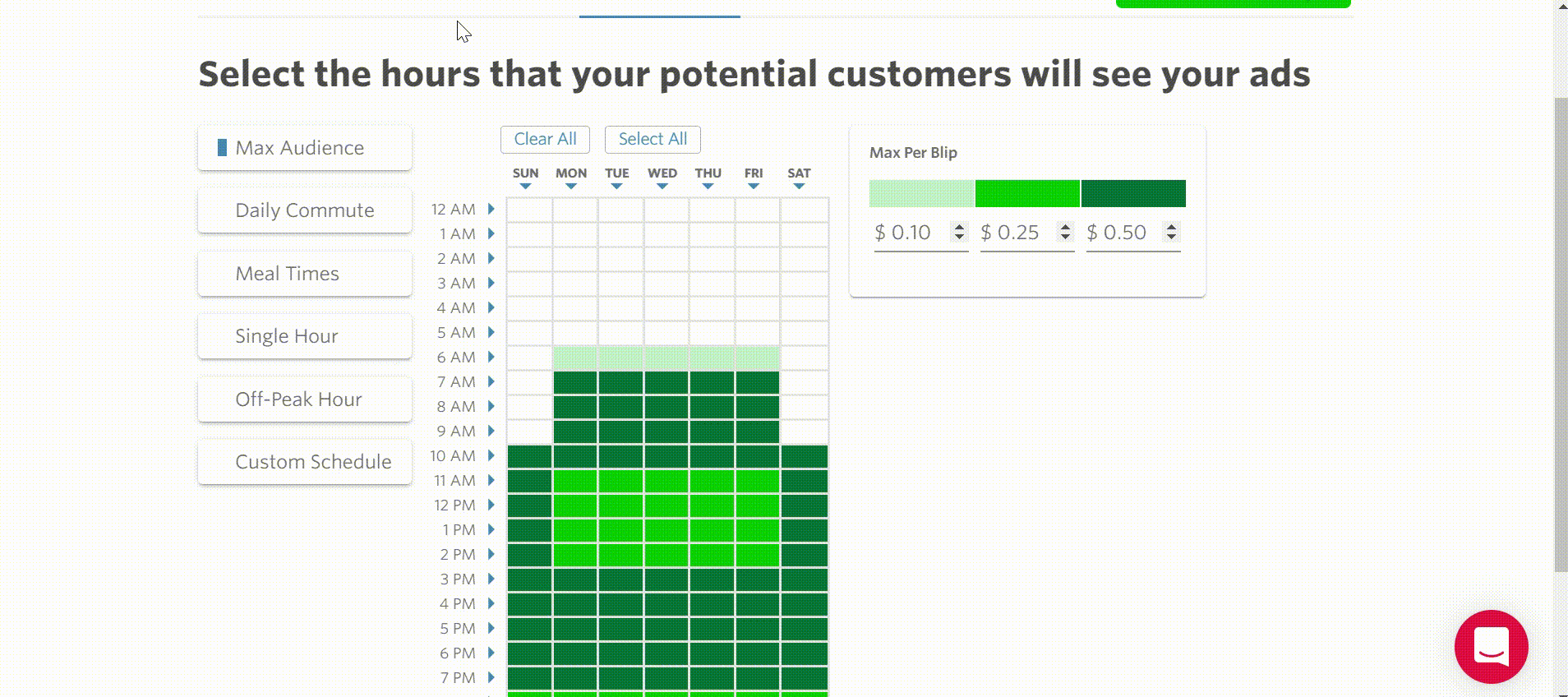 You can select your ad to run on specific hours of the day by clicking the arrows next to each hour.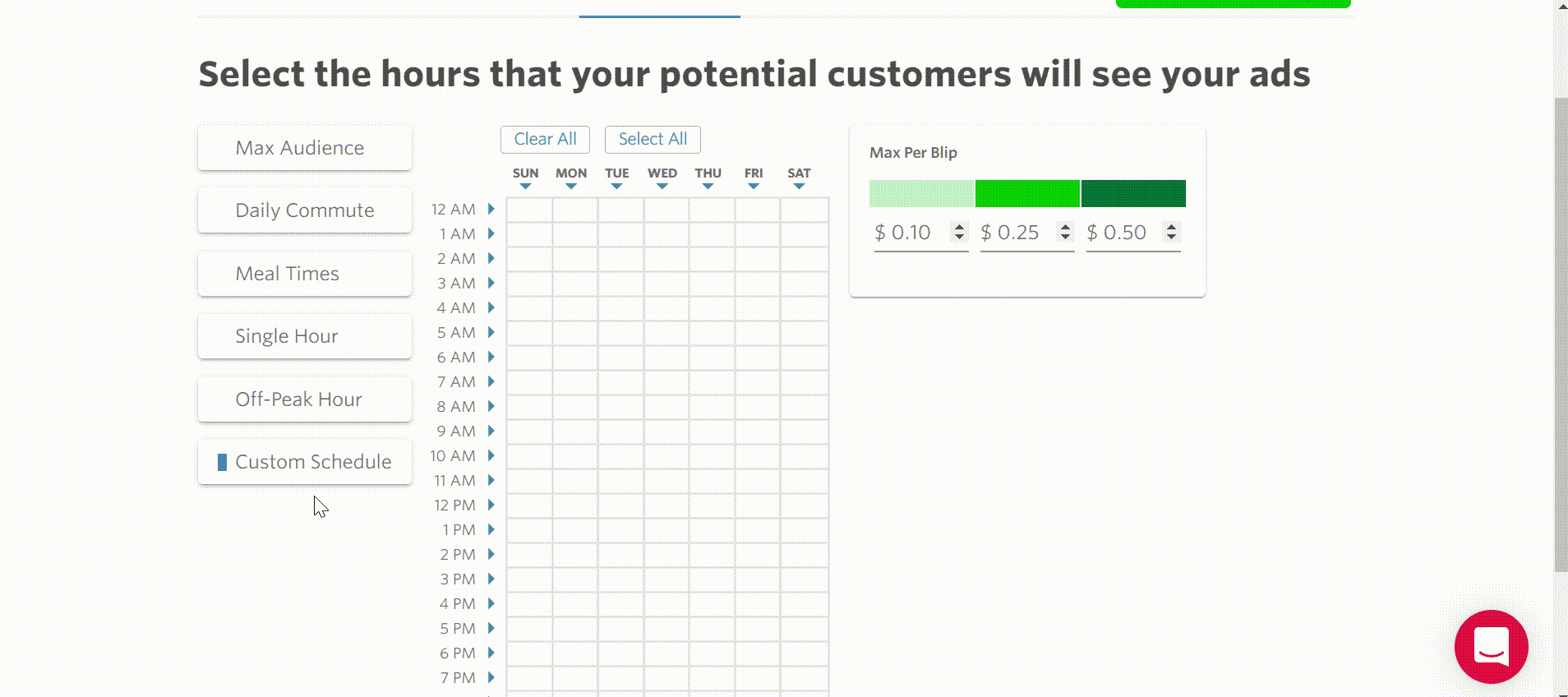 You can set your ad to run on certain days of the week by clicking the arrows next to each day of the week.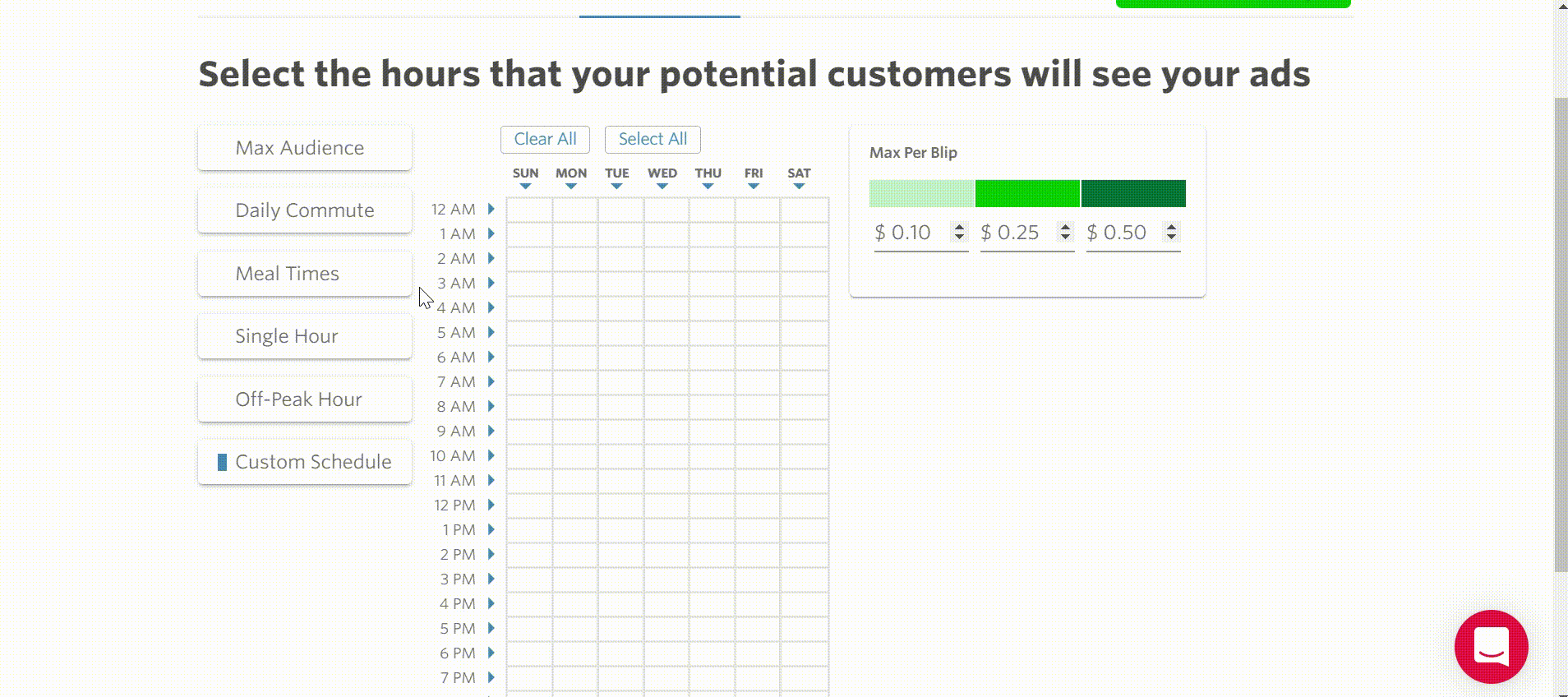 5. Upload your ad. Click the 'upload' button or select from ads that you have already uploaded on your account below.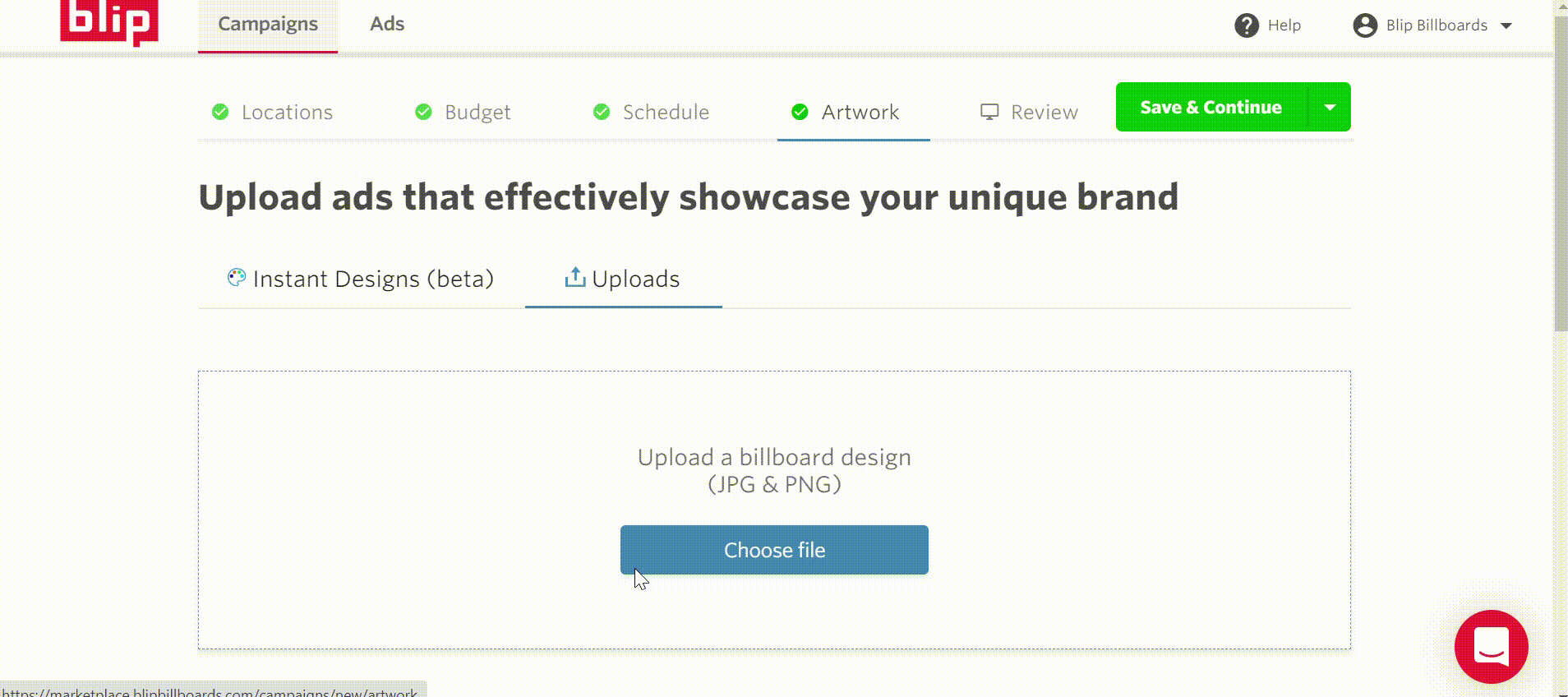 If your design isn't ready yet, you can skip this step and come back to it later or you can use the Instant Designs feature. Be sure to review our design specifications and design guidelines before creating your artwork.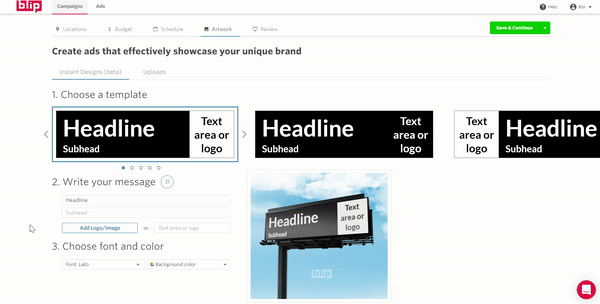 6. Review your campaign. Enter a campaign name, review your campaign settings, enter billing information, and edit if needed.

When finished reviewing, Request Approval.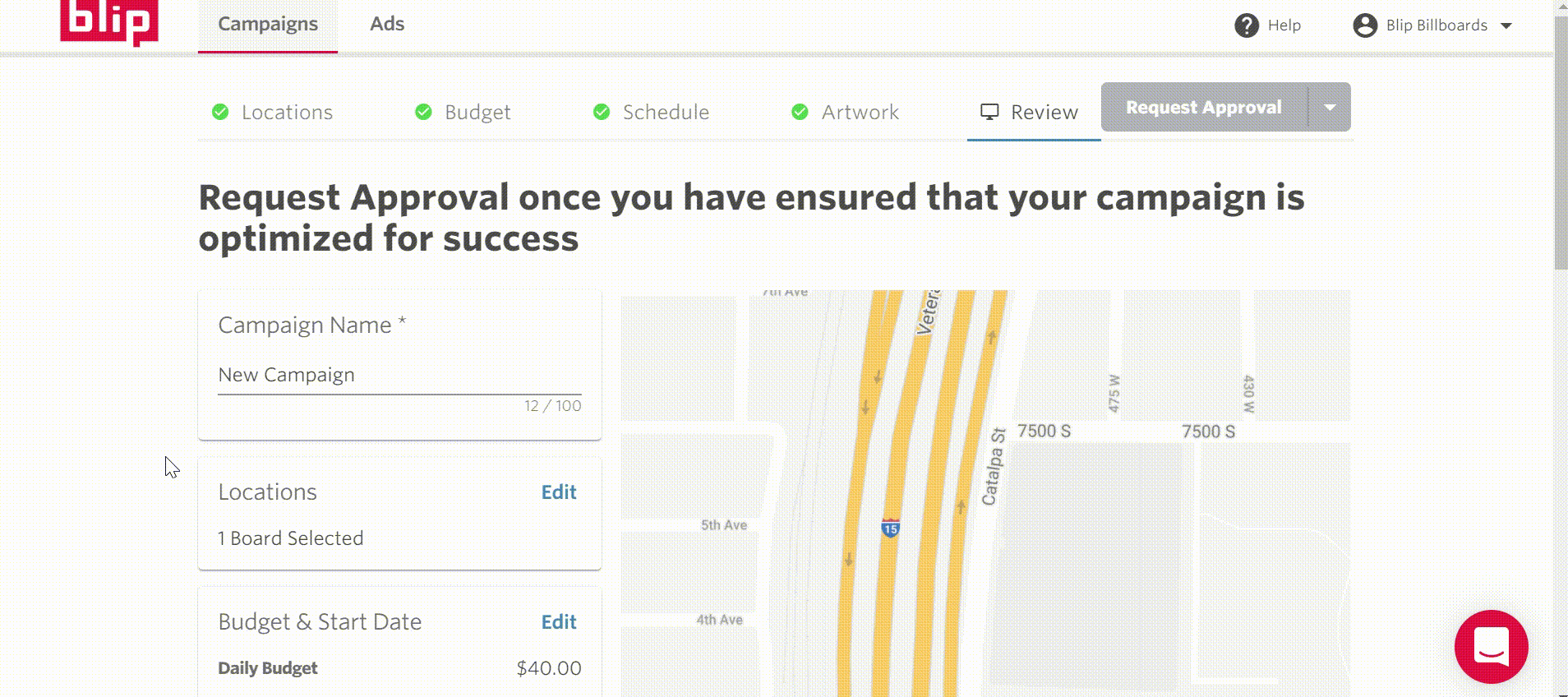 Your finished campaign will be found under the "Drafts" section of your account. Once your ad starts displaying, the campaign will move to the "Active" section.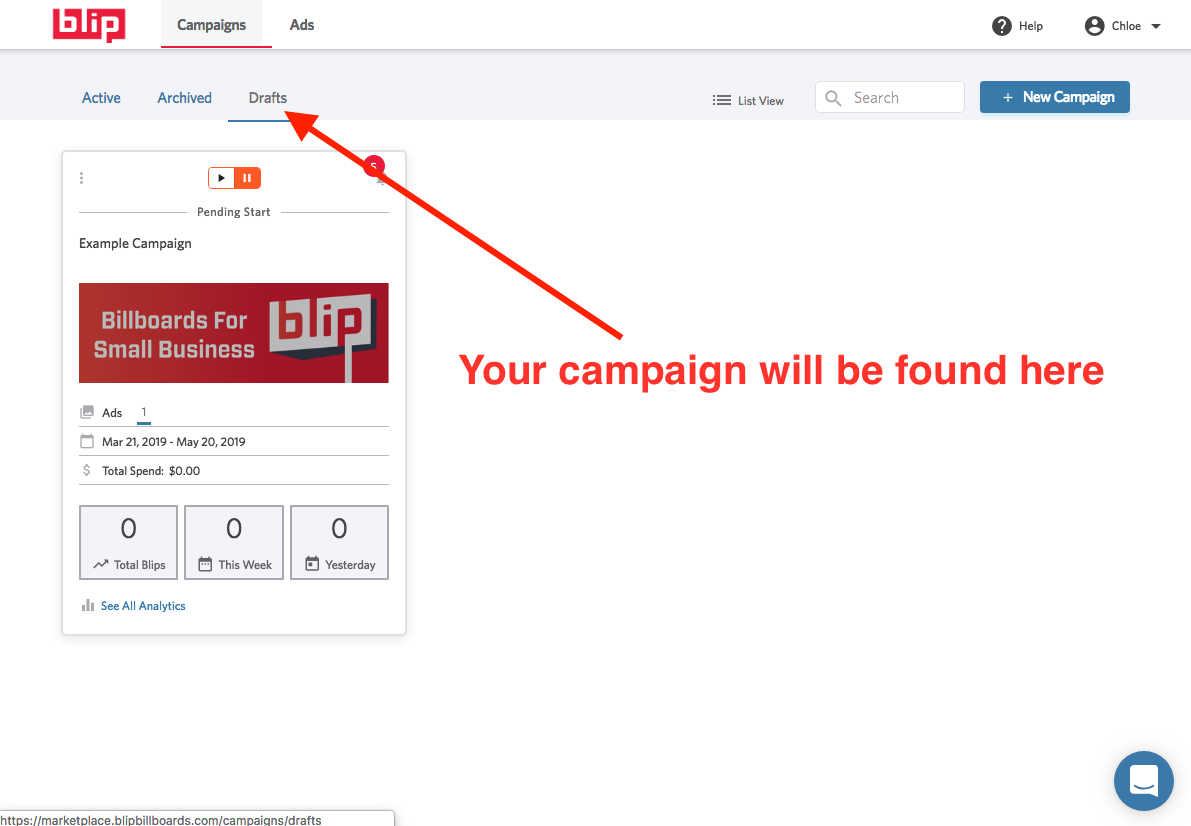 Click on notifications to see what may be preventing your ad from going live.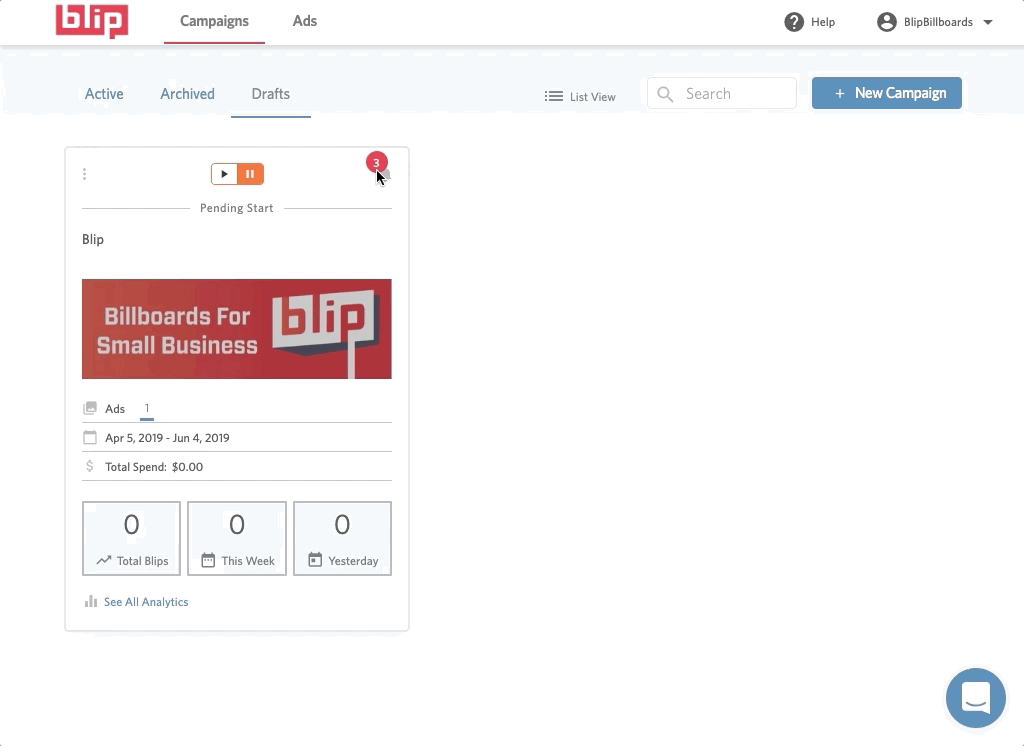 Click on the settings button to edit your campaign settings, view details of the campaign, archive your campaign, or duplicate your campaign. If your campaign has missing actions, click Complete Campaign to finish setting it up.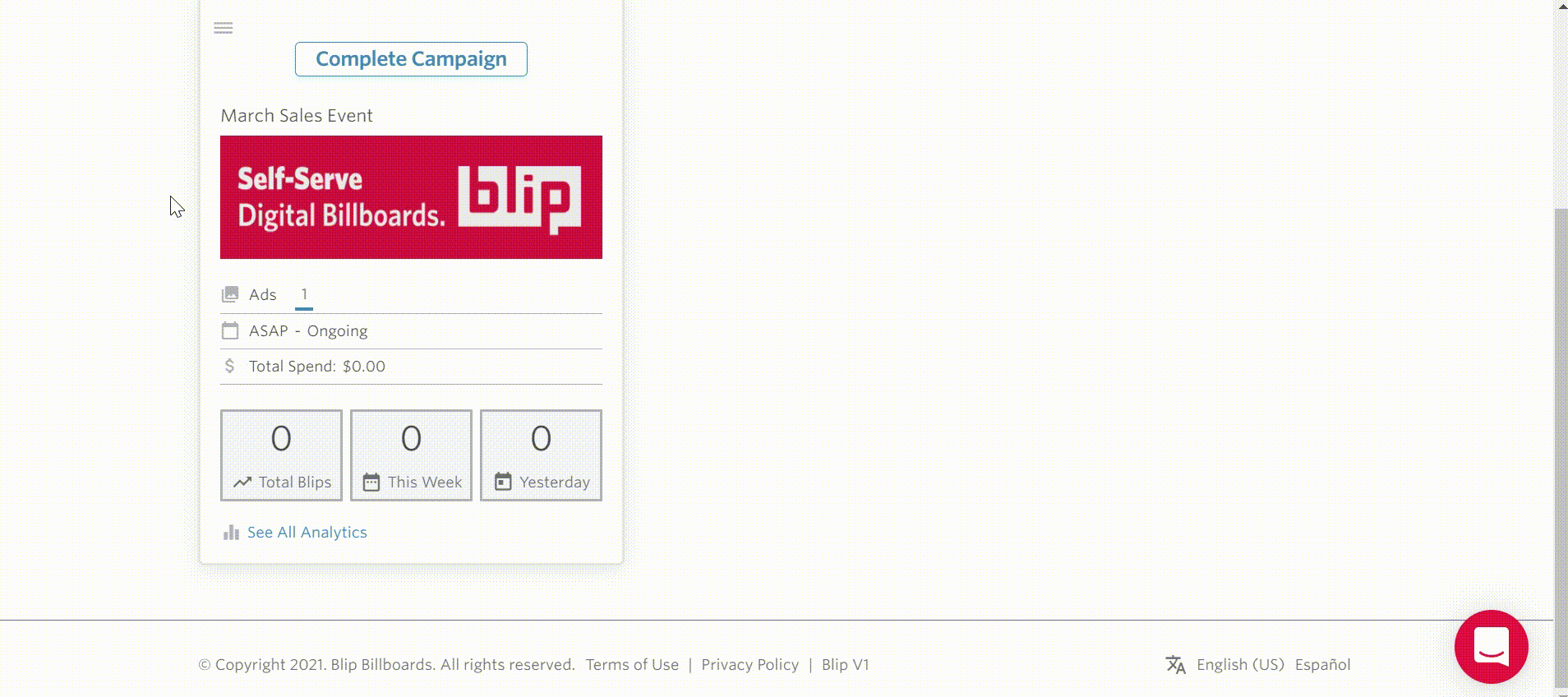 Enable and disable your campaign by clicking on the "pause" and "play" icons on the front of your campaign. Your campaign will not go active until you resolve any required notifications.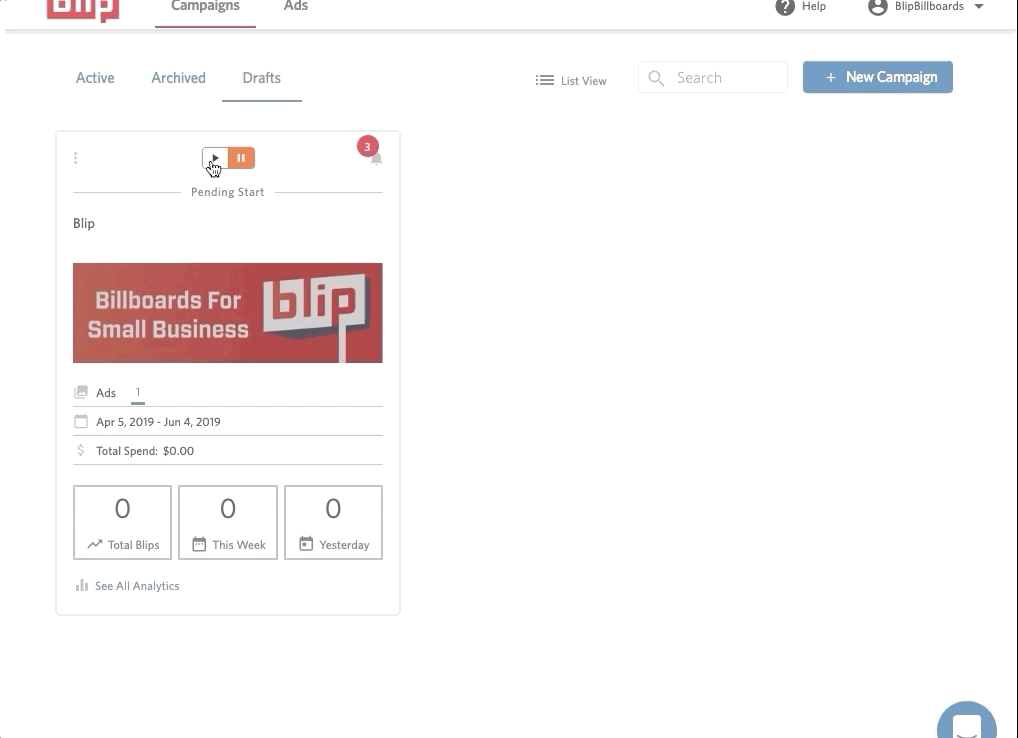 If you get stuck or if you have any questions, feel free to search for help or talk to one of our customer support representatives through our live chat.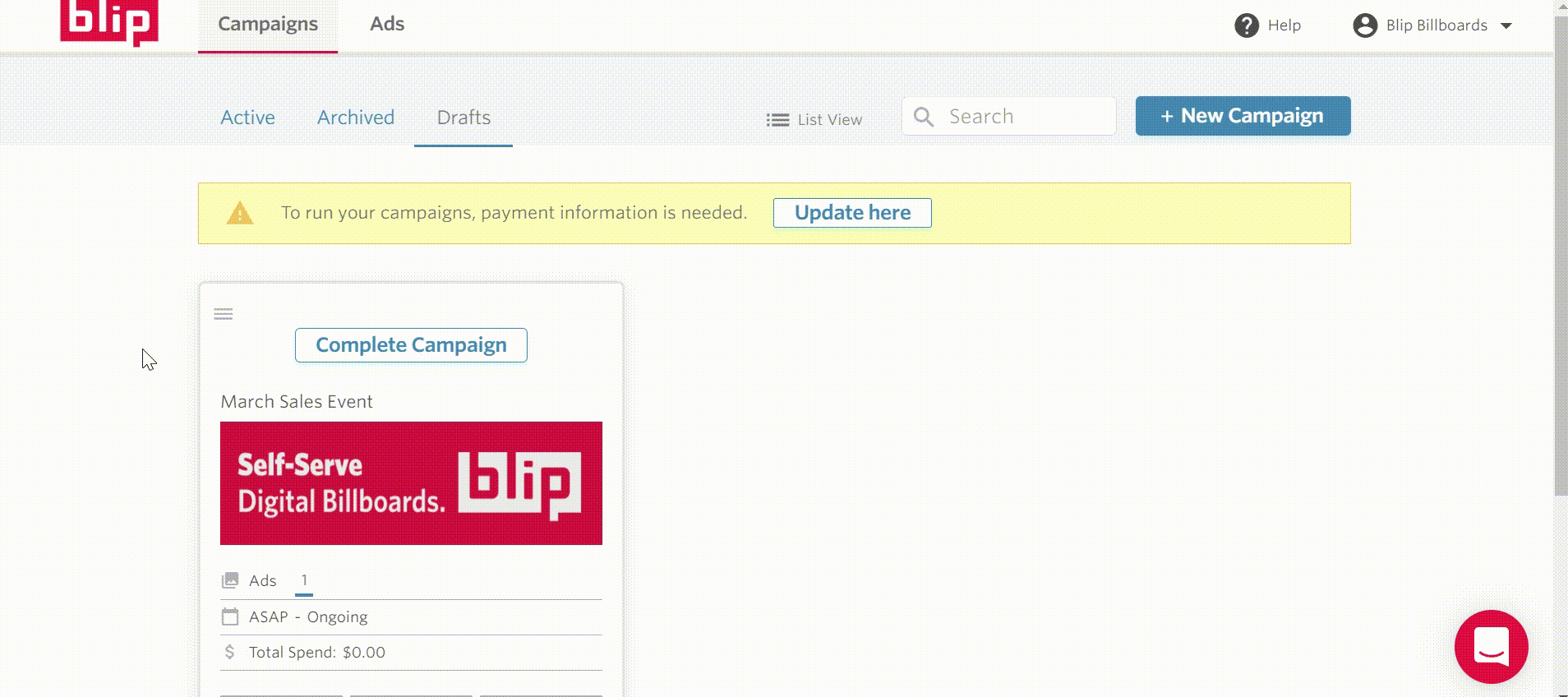 Did this answer your question?