Details about Reseller/Affiliate Commissions.
At the end of each month, Resellers and Affiliates will receive a monthly update email with the following details:
New product updates from Blip

Map with new locations added in the past month

Any other exciting Blip announcements
Resellers will get a detailed view of the monthly spend for each organization under their account (example shown below).

Blip's minimum payout is $25. If your monthly commission does not equal more than $25, it will be rolled over to the next month. (Next month example below.)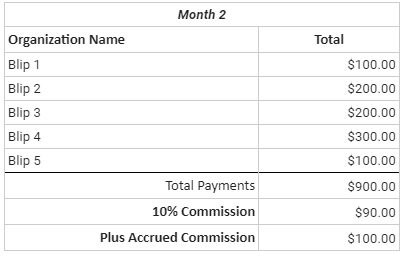 Affiliates will receive details on the number of leads that signed up Blip, the number that hit the minimum spend amount that month, and the number of visitors to the Blip website from their personalized link.
At the bottom of your email, you will be asked if you would like to be paid out via Bill.com , or as Blip Advertising Credit. We will assume that your chosen payout method will be the default unless otherwise specified.
Did this answer your question?