A deep dive into how Blip places and prioritizes advertisements on a digital billboard.

Blip is modeled to be used like a "pay per click" advertising platform (like Google or Facebook) but for digital billboards instead of online ads! Simply pay per "Blip" (instead of per click), each Blip is an 8 second display of your ad on a digital billboard. You set up a campaign and a budget on our online platform, and we will get you as many "Blips" as possible for your budget.
How does it work?
Blip does not own any digital billboards. Blip partners with sign operators and receives space for the Blip online platform

Digital sign operators divide the time on their boards into multiple slots (usually 8). They typically sell these slots of guaranteed space to their customers through month-long contracts. Digital billboard contracts range between $1,500 -$15,000 per month.

The digital billboard cycles through the slots—playing each customer's ad one-by-one, for a specific number of seconds (usually 7.5 - 10) and then repeats.
The Logistics
Blip receives 1-2 slots on the sign and fills those slots with Blip advertisers—small businesses, events, tech companies, retail shops, e-commerce, etc. A blip advertiser is essentially anyone who wants to use broadcast advertising but wants it in a more flexible, dynamic, and affordable way.
Advertisers set a Max-per-Blip (the maximum amount you would like to pay for a single showing of your ad) and their displays are given priority based on the demand for the signs they have selected. Our customers compete to receive "Blips" (8 second displays of an ad on a digital billboard) on the slots we have been given.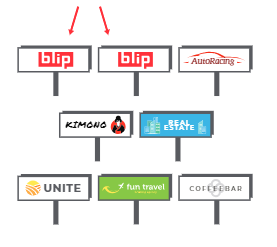 Here is the schedule of an actual billboard. The Blip ads in the rotation are the advertisers who "won" Blips on the slots given: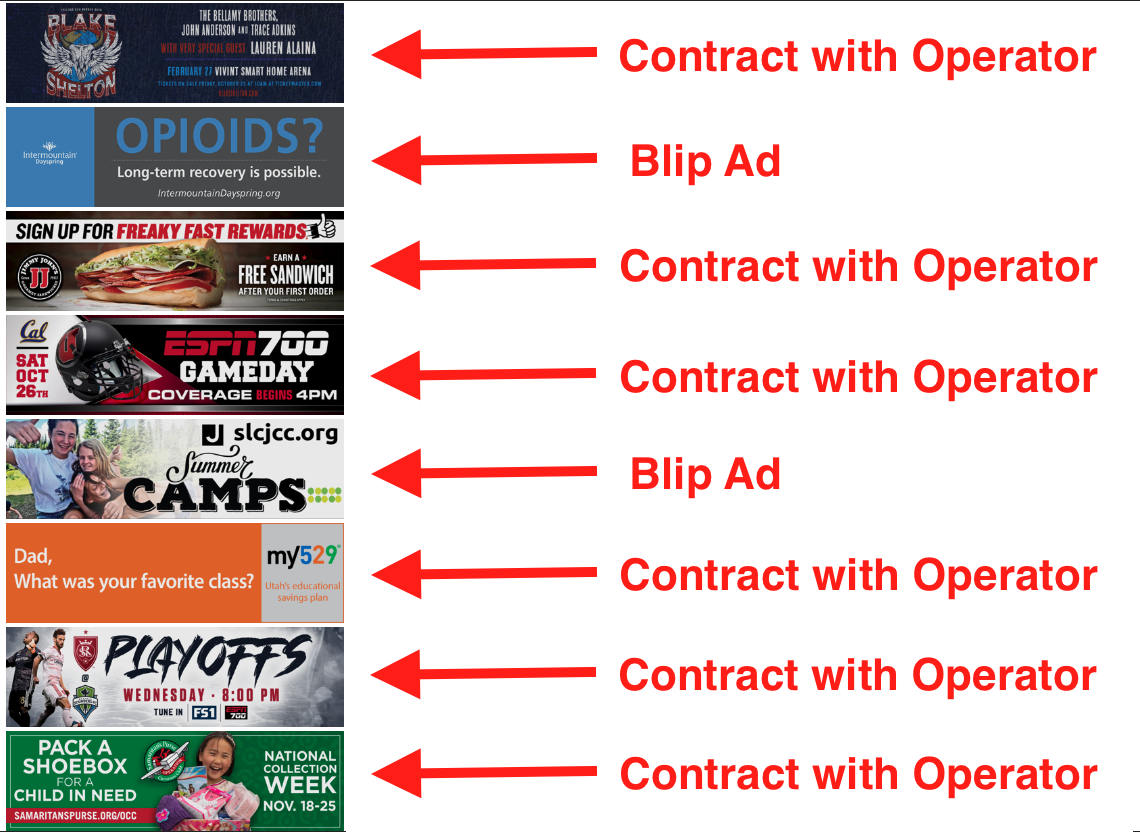 Blip is an online marketplace: this means that when you set up a campaign on Blip, you and other Blip customers are trying to get as many "Blips" (8 second displays of an ad on a billboard) as possible based on your campaign settings. Keep in mind that how many Blips you receive depends on how much you are willing to spend for each Blip.
Depending on what you are trying to accomplish: Blip could be the perfect solution for you or you might be a better fit to get a contract directly with the sign operator (We are happy to connect you if you are interested).
Blip brings added value to sign operators
Slots on digital billboards are often too expensive for many businesses and most sign operators can't fill all of their slots on all of their signs.
Blip helps sign operators with this problem by providing a way to fill the space. There are hundreds of thousands of small business owners and other types of businesses that would benefit from digital billboard advertising, but have never been able to access it because of the high price, the contract, and the lack of flexibility. In fact, we have found that 98% of Blip advertisers are new to billboard advertising.
Blip brings added value to sign operators
As a solution to the problem faced by both sign operators and customers, Blip partners with sign operators to increase their customer base and revenue.

As we provide value for each sign operator and as they receive revenue from our customers, we become strategic partners and in many cases the sign operators decide to guarantee space on their boards for Blip advertisers.
Remember
Blip is:
A strategic partner of sign operators

A self-serve digital billboard advertising platform

An online marketplace

A "standby ticket" approach to getting on a billboard
Blip is NOT:
Guaranteed space

Remnant or "unsold" space
When should I consider a contract and when should I consider Blip?
When to consider a contract:
If you need guaranteed space on a billboard at all, it is best to work directly with a sign operator.
If you would like to buy space on only one or a select few billboards, and you have a budget of +$5000/month, you might consider reaching out to the sign operator for a contract.
When to use Blip
If the recommendations in the section above do not apply to you; then you are a perfect fit for Blip!

Best use practices:
Blip works great for regional or national buys. If you want to target 5, 10, 20, 50, or even 1,000 billboards at once: Blip is the best way to do it. You can put all of your campaigns in one place and use a budget that works best for you and your clients.
Blip allows you to turn your campaigns on and off and choose your own schedule. You could use Blip this way to sponsor an event, promotion, or sale!

If you are already working with a sign operator, but you want to expand your reach to more locations without breaking the bank, Blip is a great option. Keep your contract going on a couple of the "best" billboards for you, and then use Blip to target the rest of the billboards in the area at any budget you can afford.

There are many uses for Blip, and any size business can benefit from using it! It all comes down to having a great understanding of exactly how Blip works so you can decide how you will implement it.
Did this answer your question?